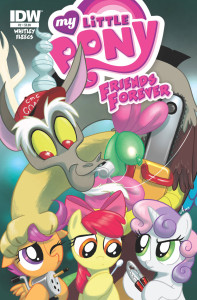 With "Friends Forever" the comic franchise My Little Pony got a second ongoing series right next to "Friendship Is Magic". And while My Little Pony: Friends Forever #1 was a rather disappointing start (the story was uninspired and the art mediocre), #2 is a different story entirely.
Written by no other than Jeremy Whitley (of Princeless fame!) it promised and really delivered! It's full of great ideas and references to popular culture (just like in the original Friendship Is Magic series!)
What's even more important, it sends out a strong message of friendship and support especially to those who are ostracised by others. Long story short: I like it!
Here is a short sample for you: