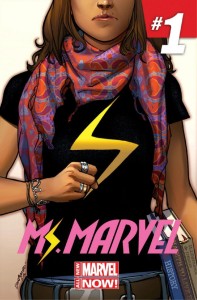 What seems to be the most anticipated comic book of 2014 (at least at the moment) has come to its audience. And apparently everyone of this audience and their mother and dogs seems to like it.
Well, I for one can't really judge it after only one issue, but I'm not very convinced of the story. There are several downsides I noticed, but what really threw me off was the use of every cliché that could possibly come to mind given that the hero of the series is a muslim and has (who would have thought) muslim parents:
Kamala is a geek/nerd. She likes the smell of bacon, writes fanfiction of Marvel superheros and is an outsider at ther school because of her religion/ethnic background.
Her schoolmates use her and her friend's religious beliefs to ridicule them.
Kamala's brother is a very devoted muslim, praying all the time. He is ridiculed for this by his own family.
Her father is the family's patriarch.
Kamala believes that she would be treated differently by her parents if she were a boy. (Compare previous point.)
Possible love interest in the not-muslim and not-Pakistani figure of Bruno.
Come on. Isn't this just a bit too much?