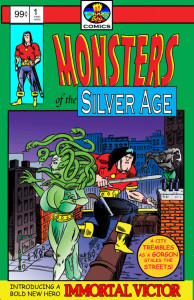 Do you like silver age comics? Perhaps especially superhero silver age comics? Now, would you like those comics with a healthy dose of humour and lots of tongue in cheek? If so, you might be interested in checking out 'Monsters Of The Silver Age' #1, coming from Johnny Boy Comics via Comixology on 24/12/2013.
Written and drawn by John Nelson, 'Monsters Of The Silver Age' let's the good old times get on the stage of the comic books again. Heros are heros, villains are evil and secret identities are for the weak. Conflicts are settled by fists and are accompanied by wordy banters.
Let's follow our hero Immortal Victor (the man with the mullet) battle a stone hard boxer, a supervillain called Falconer and a gorgon in the first issue. Thanks to John, here are the first six pages of the first issue. I hope you enjoy them as much as I did and you'll hop over to Comixology to get the real thing on Christmas Eve.
Update: Here is the link to buy the comic on Comixology.